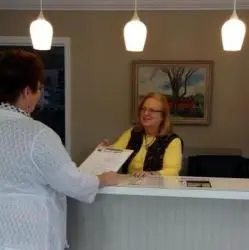 Our goal is to help you return to activities that you have found difficult or that you have had to give up due to your vision problem. We will try our best to make your experience with us as enjoyable and positive as possible. Please feel free to ask questions if there is something that you do not understand. It can be very helpful for you to bring someone with you to your low vision evaluation.
What to bring to your low vision appointment
It is very important that you bring your most recent glasses with you, even if you are not using them because they do not help. Bring any magnifiers that you have, even if they are not helpful. Bring your list of medications and your health insurance cards.
If you have some activity such as reading your bible that you would like help with please bring it with you. If there is some craft or special activity that you'd like to be able to see better please bring it.
Insurance
Please bring your medical insurance cards with you to your low vision evaluation. Medicare and other insurances pay for the medical testing that is done. We will be able to bill your Medicare/Supplemental or other medical insurance for that part of your visit. Medical insurance does not pay for testing that results in the prescription of low vision glasses or other devices. That part of your visit will be your responsibility. This will be explained fully when you speak with Dr. Armstrong. Questions about medical insurance coverage can also be answered by a staff member.
Payment Options
Payment for your visit is due that day. Ordering low vision glasses requires a payment of at least one half of the total fee. The remainder is due when the glasses are dispensed to you.
Our office accepts all major credit cards as well as Care Credit.
Care Credit is an interest free way of paying medical expenses over 6 to 12 months. A Care Credit application will be sent to you prior to your appointment in the new patient information packet. If you wish you can apply in advance. Office staff can give give you more information and help you apply.
No Risk Low Vision Promise
1. I will accept you for a low vision evaluation only if I sincerely believe I can help you.
2. If I accept you as patient it is because I believe that you will benefit from low vision glasses or other devices.
3. During the first few minutes of the visit I will demonstrate to you that I can help you see better. The remainder of the evaluation will be used to determine the best low vision devices for your needs. The evaluation fee is $275.
4. If, during the first few minutes, I cannot demonstrate that I can help you see better, the evaluation will be terminated and there will be no fee charged.
5. During the evaluation I will show you exactly how various low vision glasses will help you. You will see exactly how they help and what they look like.
6. At the end of the evaluation I will tell you exactly which glasses I am prescribing for you and their cost. You will have the opportunity to choose how much help you want and how much you wish to pay.
7. When you receive your low vision glasses I will again demonstrate that they help you more than your previous glasses. If you do not see an improvement the fees that you paid for the glasses will be refunded. The evaluation fee is non-refundable.
I make these promises based on years of experience helping persons with macular degeneration, Stargardt's disease, diabetic retinopathy and other eye diseases. Because of this experience I have the skills to identify people who I can help and to prescribe appropriate low vision glasses for their needs. Call me for a free telephone consultation. 1 866 321-2030 (toll free)
Dr. David L. Armstrong, Low Vision Optometrist