Meet Dr. David Armstrong, Optometrist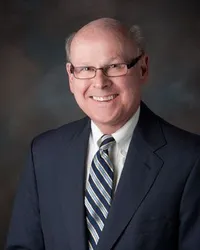 I grew up in Batavia, a small town in western New York State. My father was an optometrist and when I was in high school I decided that I too wanted to practice optometry. I was educated at the University of Rochester and Illinois College of Optometry. From the beginning of optometry school I knew that I had chosen a profession that I was going to enjoy and find satisfying.
In the 1960s when a young man completed his education he was required to serve in the military. I was very fortunate to serve 3 years as a U.S. Army optometry officer. That time gave me a great deal experience with patients and their vision problems. The same amount of experience would have taken many more years in civilian life. While serving at Fort Benning, Georgia I met my wife to be, Connie. The New York Yankee married a Tennessee Volunteer. 50 years later we are still happily married. We are very proud of our 3 children and 5 grandchildren.
Connie and I moved our family to the Roanoke Valley in Virginia in 1972 and I began my optometry practice here. Over the years, in addition to my private practice I served several years as a staff optometrist at the Salem, Virginia Veterans Administration Hospital. I have been a low vision examiner for the State of Virginia and an optometric consultant to the Virginia Department of Corrections. In mid 2014 I gave up my primary care optometric practice now see only low vision patients.
I am a Lifetime member of the American Optometric Association and a 40 year member of the Virginia Optometric Association. My practice is a Better Business Bureau Accredited Business.
I have had the opportunity to participate in several medical mission trips to Kingston, Jamaica and Cap Haitian, Haiti. I have seen firsthand the medical and eye care needs of very poor people in these third world countries. These mission trips were sponsored by the United Methodist Church.
My faith is very important to me and I am very aware of the many ways that the Lord has blessed me. I am blessed with a wonderful family. I am practicing a profession that I love and each day I have the opportunity to serve the Lord by serving my patients.
David L. Armstrong, O.D.
---
Education:
University of Rochester
Illinois College of Optometry
Professional History:
Optometry officer, U.S. Army, Fort Benning, GA
General optometry practice, Batavia, NY
Staff optometrist at the Salem, VA Veterans Administration Hospital
Low Vision Examiner, State of Virginia
Consultant with the Virginia Department of Corrections
Practicing optometry in Roanoke, VA since 1972.
Practice now dedicated exclusively to helping patients with low vision remain independent.
Professional Affiliations:
American Optometric Association, Life Member
Virginia Optometric Association, 40 year member
Professional Accomplishments:
Member, medical mission teams to Kingston, Jamaica in 1995 and 1996 and to Cap Haitian, Haiti in 1998 and 2000, sponsored by the United Methodist Church.
Member of the Speakers Bureau, Johnson & Johnson Vision Care, Inc.

Personal:
Native of Batavia, NY
Married- Wife Connie, 3 Adult Children,
5 Grandchildren
Member of Windsor Hills United Methodist Church
Resides in Roanoke, VA